Editor's note
We are pleased to release the 2019 Fall edition of Spirituality Studies!
The current edition is opened by an interview with a Buddhist monk Ajahn Jotipālo on meditation, icon writing and dialogue that is followed by a group of research studies covering topics oscillating around ethics and moral education, discernment of spirits, cognitive science and meditation, and reproductive bioethics in Islam. The second section of the 2019 Fall edition brings an original kōan-like interpretation of spiritual journey and finally a description of unknowing in its centrality for the Zen Buddhist spirituality. All these contributions provide a reader with a multidisciplinary look at the vast landscape of spirituality in its multiple forms.
It is my pleasure to invite you to have a look inside – not only inside the current issue of the Spirituality Studies Journal, but also inside yourself, that is behind all modalities and expressions of our personalities to a "point" from which they all originate as visually suggests an icon of Ajahn Chah on the cover.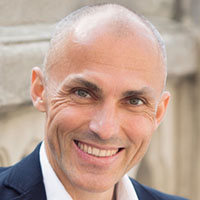 Cordially
Martin Dojčár
Blog
Gejza M. Timčák
Gejza M. Timčák
Newsletter